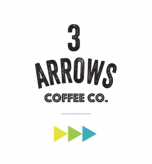 Our Ethiopia Single Origin. This single-origin bean is a light roast and is extremely smooth. Like drinking fine wine.
More about 3 Arrows Coffee Co.
3 Arrows Coffee Co. specializes in small-batch specialty coffee. We roast to enhance the flavor of the coffee bean itself. We believe in 4th-wave coffee, a movement that celebrates the science of coffee and the obsession with detail and perfect taste experience. We believe coffee should be handcraft
Read more...
No Customer Reviews
Be the first to write a review.