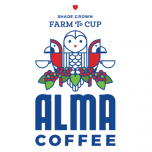 This medium roast was inspired by summer at our family farms in Honduras, Verano meaning "Summer" in Spanish.
Processes
Fully Washed; Honey
Notes from the curator
"Verano" (which means summer in Spanish) is a limited seasonal roast curated specifically to keep you cool & caffeinated all summer long. This single origin coffee is a blend of wet wash and honey process beans that come together in a deliciously medium bodied coffee; This brew is perfect for on-the-go brewing or icy drinks with notes of red apple, fresh peach, strawberry preserves, and light caramel.
More about Alma Coffee
Service Disabled Veteran Owned & Women Owned As 5th generation coffee farmers, we consider every detail in creating the perfect cup of coffee. The seeds, the plants, the roasting process, and the brew are all part of crafting coffee with soul. Being the farmer makes ALL the difference!
Read more...
No Customer Reviews
Be the first to write a review.