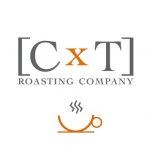 Your choice for a full body coffee w/ hints of lime to accompany the earthy and cocoa characteristics of a darker roast.
Altitude,
meters
1300 - 1600
Notes from the curator
Indonesian coffees are complex and unique from other origins due to the vast number of micro-climates and soil compositions that accompany high humidity. To combat the moisture levels, a wet-hulled process is used, which essentially lets the coffee dry ferment in the mucilage before the wash process. The result is a full bodied coffee with some lime and spicy sweetness. This is the darkest roast in my portfolio. I find it shines more than others in this temperature - a sensational cup...~Tristan
More about [CxT] Roasting Company
[CxT] Roasting Company is a family owned small business specializing in specialty grade coffee for both retail and wholesale. All of our coffee is small batch roasted by our SCA certified roastmaster, Tristan. Our portfolio consists of a wide variety of light-roasted single origin coffees.
Read more...
You had me at the aroma when I opened the bag.
There was a little coffee shop with it's own roaster near me and I could never duplicate the coffee I had there. This Indonesia-Sumatra Mandheling did that for me. I love it.