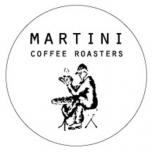 Light-med roast, tasting notes include grapefruit, sweet cherry and bittersweet chocolate.
Altitude,
meters
1300 - 1600
Notes from the curator
Colombia Supremo 17/18 comes from small family-owned farms in the growing region near Pereira, Colombia. Small coffee producers pick and process their coffee at their own micro-wet mills and then dry their own coffee, typically on elevated tables inside solar dryers that provide protection from the rain.
More about Martini Coffee Roasters
Here at Martini Coffee Roasters, we explore the art and tradition of coffee roasting. We believe each new coffee variety we encounter can be expressed in a multitude of roast profiles. For some of our single-origin coffee we even allow our customers to choose their own roast! At MCR, we roast-to-order in small batches to ensure quality and freshness.
Read more...
Delicious 👍
My wife and I love this coffee roast. She loves it black and I like it with a little bit of sugar and cream. It's not acidic and incredibly flavorful. Ordering it again. I'm brewing it in my new spinn coffee maker. 👍