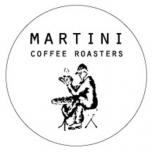 From the famous Yirgacheffe region of Ethiopia, tasting notes include: blueberries, cashews and ripe fruits.
Notes from the curator
Light-Medium Roast, this delicious bean has a sweet, acidic and floral body, like a viscous tea. Relatively lower in caffeine than its South and Central American varieties, Ethiopian Yirgacheffee is a coffee to enjoy during the evening or paired with an after dinner dessert.
More about Martini Coffee Roasters
Here at Martini Coffee Roasters, we explore the art and tradition of coffee roasting. We believe each new coffee variety we encounter can be expressed in a multitude of roast profiles. For some of our single-origin coffee we even allow our customers to choose their own roast! At MCR, we roast-to-order in small batches to ensure quality and freshness.
Read more...
Amazing Roasters!
This is my 3rd purchase with Martini. Each roast is extremely fresh- their recipe makes every cup taste skillfully crafted through the Spinn machine! 10/10- I am now a regular! They include a hand written note and service is always so fast and attentive!