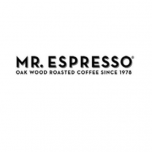 Surrounded by the sights and smells of the region during his youth, Mr. Espresso's founder, Carlo Di Ruocco, set out to
Notes from the curator
Cupping notes : Bittersweet chocolate, Hazelnut, Caramel candy Roast level : MEDIUM-DARK
More about Mr. Espresso
Our oak wood-roasted coffee is an homage to the classic flavors of Old World Italy, refined and reinterpreted for modern tastes. Founder, Carlo Di Ruocco, brought this traditional Italian method of roasting to America in 1978. Today, the Di Ruocco family remains committed to this time-honored craft.
Read more...
Good flavor, not oily
These beans have a bold, strong, complex flavor. And, which is not a given for an espresso roast, the beans aren't oily and won't damage the Spinn.

great European / Italian roast
This is how the Italians roast their coffee. Delivering a great Spinn espresso.