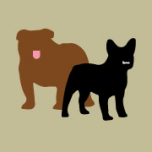 Amazing Decaf coffee. Love coffee , can't do the caffeine ? You would never guess this coffee is Decaf
Processes
Decaffeinated: Swiss Water Process
Notes from the curator
This blend boasts the smooth sweet body of Sumatran beans, perfectly complimented but the mellow acidity and nutty undertones or Peruvian beans. This unique roast id full bodied and deep flavored while still maintaining a sweet undertone. 50% Decaf Timor & 50% Decaf Peru 100% Fairtrade & Organic Tasting notes : Malt , Walnut, and Dark Chocolate
More about MUDDY WATERS COFFEE CO & RESCUE ROASTS
The Muddy Waters Coffee Company, micro roaster and distributor of 100% certified organic coffee. Founded in 1998, Muddy Waters is focused on producing the highest quality product for an amazing price for the past 20 years. With only 1 person, we guarantee the quality and craftsmanship of every bag. Our Rescue Roasts line donates 10% of profits to Animals!
Read more...

Solid Roast
Very happy with this. Solid, robust flavor that tastes great. Absolutely adore this roast. Like it!!
I use this for my pour-overs. Haven't tried it in my machine but this is a great decaf coffee! PA professor
Among the best decaf coffees I've ever had.