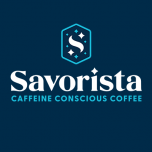 Rich and bright, with notes of chocolate and hints of caramel, citrus and fruit.
Altitude,
feet
5200 - 6200
Processes
Decaffeinated: Sugarcane EA; Fully Washed; Decaffeinated
Variety
Caturra, Typica, Colombian, Colombia
Notes from the curator
This was our very first coffee, one that we taste-tested and were shocked to learn was actually a decaf. Bright notes of citrus pair perfectly with rich chocolate and caramel to create a coffee that is truly worth savoring, without the caffeine! Perfect for: Adventure-seekers, world travelers and out-of-the-box thinkers.
More about Savorista
Savorista crafts astonishingly delicious decaf and half caf coffee. Our variety of caffeine conscious coffees enables coffee lovers to savor the comfort of coffee anytime, without the impact of too much caffeine.
Read more...
No Customer Reviews
Be the first to write a review.