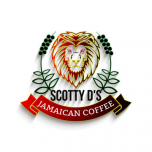 The combination of Jamaican Blue Mountain and Kenyan AA will dazzle your tastebuds.
Variety
Blue Mountain, SL28, SL34
Notes from the curator
The stonefruit taste notes, mixed with black tea and molasses will bring out a flavor that is very unique. The Kenya AA is the largest bean grown in Kenya, and provides a very complex cup when added with Jamaican Blue Mountain. This blend will surely satisfy your palate like no other..
More about Scotty D's Jamaican Coffee
We are a specialty coffee roaster in Orange County, California that focuses on coffee grown in Jamaica. We roast 100% Blue Mountain Coffee and various other varietals that we blend with Blue Mountain Coffee.
Read more...

Tasty and prompt shipping!
Great flavor!