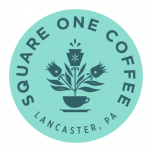 This blend of coffees from Brazil and Nicaragua is a crowd pleasing, every day, all day sipper.
Processes
Fully Washed; Natural
Variety
Yellow Bourbon, Bourbon, Catuai, Caturra, Pacamara
Notes from the curator
The subtle hints of flavor we taste are the perfect combination of chocolatey goodness and nuttiness with a mild, approachable acidity. It's reminiscent of one of our favorite chocolate, peanut, and nougat-filled candy bars. (You know the bar.) This blend is delicious served as a drip coffee or as an espresso. Drink it black or however you like it. This is a judgement-free zone. Note: This is NOT an artificially flavored coffee. None of our coffees have any added flavors or additives.
More about Square One Coffee
Square One Coffee is an award-winning micro-roaster based in Lancaster, Pennsylvania with retail locations in Lancaster and Philadelphia. We're a small, family-owned business, and we've spent the last 15 years roasting and serving some of the highest quality coffee in the world.
Read more... Perfect
Best coffee we've had yet! Definitely bitter
Idk what folks are saying by not bitter. I normally drink my coffee black but can't with this one. It also has no flavor other than coffee. Hope I just ended up with a bad batch but I Will not be buying it again unfortunately. New Regular
This coffee is great- definitely will be a new addition to our auto-ship

good coffee
I have yet to taste the candy and I have only tried cold brew and black coffee. It may taster better as an espresso but it is the first coffee bean I bought from the marketplace that's not bitter or acidic.

1. Sophisticated Sour Candy
The 1 is for the first coffee I have tried with Spinn. This is definitely a coffee you will enjoy as an espresso or a ristretto. Tastes amazing. Smooth, subtle sour candy flavor profile with a velvety texture. An awesome coffee for folks who like their coffee without milk.

As Advertised
I had read a few good reviews for this bag and so I gave it a try. I would say that it is "as advertised" in that it has a candy like nuance (thing nougat bars) but I also discovered that this flavor profile is less to my liking than I had anticipated. Good coffee, but for my taste, not great. I did like it better as an espresso than as a full cup. Makes a good cold brew, but my emphasis will always be on a mug of coffee, black. Worth trying but I'm not likely to repurchase.