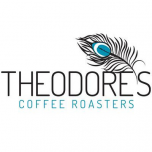 limoncello, ginger ale, watermelon soda, freesia, candied grapefruit, kumquat.
Altitude,
meters
1800 - 2200
Variety
Ethiopian Heriloom
Notes from the curator
Owner: Ayele Tulu General Manager: Alemu Gobaro Assistant Manager: Yohannis Tulu Industry Manager: Mansesha Kekabo Daily Labor Manager: Gebre Garo Coffee varieties: 74/158, 74/165; 74/112; 74/110; and 74/40 Soil type: Loamy clay Demographics: Local people group name: Sidama Local language(s): Sidama, Amharic Process: Special Prep Washed Day Lots
More about Theodore's Coffee
Theodore's is sourced through direct trade, a result of Theodore's founder Darwin Pavon's relationship with farmers throughout Central America and, more recently, Africa. Through direct trade, Theodore's ensures that their farmers are paid a fair amount for their coffee and support Micah Project.
Read more...

OK
Pretty good, but not as bright and fruity as I was expecting from the description.