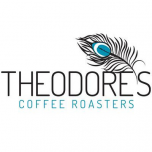 Bright like riesling wine, jasmine blossom, golden kiwi, black currant, honey and pumpkin pure
Notes from the curator
GENALEM GEWYERO" – GOD IS GOOD! - This is the motto which hangs on the entrance to Dinkalem's dry mill, across the road from the Wush Wush washing station. Dinkalem's washing station is one of the most cheerful we get to visit each year, with smiling faces all around, clean facilities, and a well-organized production flow. Dinkalem. himself is a short, cheerful man who's proud of all he's accomplished in partnership with his wife, Sofia, for the area.
More about Theodore's Coffee
Theodore's is sourced through direct trade, a result of Theodore's founder Darwin Pavon's relationship with farmers throughout Central America and, more recently, Africa. Through direct trade, Theodore's ensures that their farmers are paid a fair amount for their coffee and support Micah Project.
Read more... Coffee
This coffee was all bad, great to start the morning with or to just have a cup later on through out the day. I didn't catch anything special about the coffee on it's own other than its a pleasant cup. Sour
I didn't like this one. coffee
I had ordered this coffee from off the Spinn app, and there had been some mistake of shipping where I never got my coffee in the mail, so I had contacted Spinn and they were so very helpful, but unfortunately something had been so messed up with my order that when I finally got my coffee it was the completely wrong one and it won't even scan into the Spinn App. it's unfortunate, but I will not be ordering from this company again.

Good Light Roast
Good light roast with complex flavors. A little bitter at the end. Would buy again. New Favorite
My wife and I absolutely love these, our new daily go to coffee!

Smooth!
I have one word for you, SMOOTH! This stuff makes for such a pleasant cup of coffee. It tastes round if that makes any sense. The acidity is definitely there and is pleasant, yet not bracing. And really no bitterness at all! For some reason I get the flavor of pumpkin seeds predominantly, but it isn't a bad flavor and is actually really nice! This coffee might become my new daily driver. But I like to try new coffees all the time so it might be a while before I revist this one.