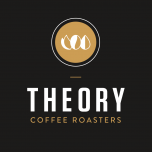 This decaffeinated coffee has balanced cherry and chocolate notes that make it a cup that can be enjoyed at all times.
Processes
Decaffeinated: Swiss Water Process
Variety
Caturra, Typica, Bourbon
More about Theory Coffee Roasters
We are a Collaborative of coffee roasters working together to roast the finest coffees in the world to their optimum roast level. We roast to bring out the complexity, clarity, and natural sweetness to the forefront of each cup.
Read more...
No Customer Reviews
Be the first to write a review.