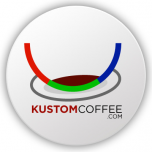 Wildflower essences mingle with blueberry, strawberry and dried cherry tones on a chocolate candy backdrop
Notes from the curator
The story of Burka Gudina ("where the blessings grow") Estate begins years before the farm began. Ibrahim Hussein grew up in a coffee farming family in the Oromia zone, learning his craft from his grandfather and father. The family lost their farm during Ethiopia's Communist rule, but Ibrahim did not lose his dream. He eventually acquired 205 hectares of land and began building a quality-focused specialty coffee farm. Soon the accolades came, and international recognition followed.
More about Kustomcoffee
Kustomcoffee is a very small award-winning artisan micro-roastery based in Fairfax, Virginia. We roast very small batches of ethically sourced premium specialty coffee beans. Each batch is handcrafted and unique, without reliance on computerized roast profiling.
Read more...
No Customer Reviews
Be the first to write a review.