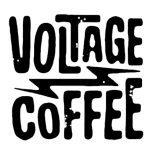 Milk & Honey, the quintessence of our offerings, is preferred on espresso but performs exceptionally in any brew method.
Country
El Salvador; Ethiopia
More about Voltage Coffee Project
We collaborate with farmers, roast coffee, and open unique concepts — all with the sole focus of creating community.
Read more... Good cup of coffee!
This is the first bean that I've used in my new Spinn. It's great as both espresso and regular coffee. I don't like my regular cup of coffee to be strong so I'm customizing the amount of coffee per cup. Overall I enjoy this bean and I will buy it again in the future!

Wow
What a great roast, aromas and flavor notes as in description. A+ Delicious!!
Hands down, one of the best coffee beans I have ever purchased!