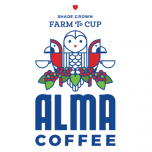 Are you ENCHANTED by dark roast coffee? We can't help but obsess over this deliciously bold cup of coffee!
Variety
Lempira, Parainema
More about Alma Coffee
Service Disabled Veteran Owned & Women Owned As 5th generation coffee farmers, we consider every detail in creating the perfect cup of coffee. The seeds, the plants, the roasting process, and the brew are all part of crafting coffee with soul. Being the farmer makes ALL the difference!
Read more... Not a Personal Favorite
Was a bit too bitter and not rich in flavor, thin. Processed fine in the Spinn though. It's a good dark roast
I like the flavor. It's a dark roast, but not oily (Spinn coffee maker doesn't work well with oily beans).