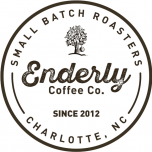 Directly Traded coffee sourced from De La Finca Coffee.
Notes from the curator
Brought to you directly from De La Finca Coffee, Joel & Elmer are fifth generation coffee growers that run this farm. They are committed to quality and the people they work with them, just like us!
More about Enderly Coffee Company
Enderly Coffee exists to strengthen our community by forging meaningful relationships in our neighborhood and throughout our city. We seek to encourage and inspire others to live for others. Last, but certainly not least, we strive to craft exceptional coffee!
Read more...
No Customer Reviews
Be the first to write a review.