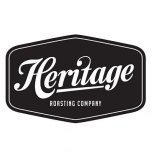 Our signature 3 bean espresso blend.
Notes from the curator
Our Espresso is a seasonal blend of 3 different origins with 2 purposes in mind. First, we expertly blend this coffee to be a complex espresso that is better than any single-origin. Secondly, we look for this blend to cut through milk and shine in your favorite Gibralter, Cappuccino, or Latte.
More about Heritage Roasting Company
Serving and roasting specialty coffee since 2013 in the heart of Shasta Lake City, California. Our heart is to use coffee as a vehicle for relationship. We believe in championing community, having seed to cup traceability, and being ethically sourced.
Read more...
No Customer Reviews
Be the first to write a review.