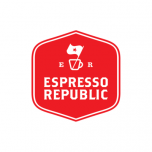 Our signature Chino Valley Blend is comprised of direct trade coffees from Colombia.
Notes from the curator
Green Grape, Licorice, Toffee
More about Espresso Republic
We are a specialty coffee roaster committed to excellence in everything we do. Our coffee is directly sourced and roasted to order on our Loring Roaster to ensure freshness and to promote quality. Our mission statement: To have a passion for quality coffee. From farm to cup, we want to offer the best.
Read more... Bitter but not sweet
This coffee is hard to describe for me. It left my mouth feeling dry and a bitterness on my tongue.
Very Smooth and Well-Balanced
While a little pricey (especially after shipping), this made an excellent variety of coffee and coffee drinks. Very smooth and well balanced. Very happy with this.

Great for espresso!
I found this coffee to be okay for filter style coffee. But when I tried it for espresso? Wow! it is so smooth and really cuts through milk without being harsh when enjoyed without milk! Great stuff! very good
Love the coffee, the Spinn truly makes it great whether it's espresso (my personal choice) or coffee or americano! I will say, there's a sour note to it. Not for everyone. But I really enjoy it. I do need a few cups however, my caffeine tolerance is clearly Too high :)
Two Thumbs up!
So far, of the 4 beans I've boughten from here, this is one my favorite! No grittiness in my coffee with this guy! Smooth!!
This is perhaps the smoothest cup of coffee you will drink. Reminds me of the Tip of the Andes bean that I used to buy years ago. Like others have said, this is my new go-to bean.