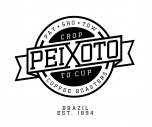 Brazil - Single Origin, Natural Process, Fazenda Sao Jose da Boa Vista (the Peixoto Family Farm)
Altitude,
meters
1250 - 1300
Region
Sul de Minas, Minas Gerais
Notes from the curator
This coffee is the go-to lot of our current-harvest Peixoto family coffees. Rich flavors of berries, chocolate and nuts identify it as a high-quality Brazil. With a sweet, clean, and rich flavor profile, this coffee pleases just about everyone.
More about Peixoto Coffee
The Peixoto Family has been growing high quality Arabica coffee on our farm in Minas Gerais, Brazil since 1894. Five generations later, we put down roots in Arizona as Peixoto Coffee, where we import, roast, and serve our family coffee along side other exceptional coffees from around the world.
Read more... Great cup
I drink mine black usually using the cup setting, though sometimes a red eye. Coffee was great Excellent
A fantastic natural process coffee. Solid entry in natural process coffee
Very sweet, creamy coffee with nutty undertones and mild fruity hints as it cools down. Very mild for a naturally processed coffee which is great as some can be in your face. I did crave a bit more fruit forwardness (my taste preference) but was happy since it's very balanced and you can easily drink it all day long!