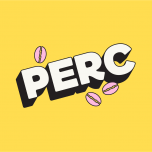 This is a great coffee for any drinker. Its sweet and smooth, while maintaining a sturdy body that holds up in the cup.
Altitude,
meters
1400 - 1700
Region
Huehuetenango, Guatemala
Variety
Bourbon, Caturra, Pache, Typica
Notes from the curator
Guatemala strikes again with this colorful coffee from Huehuetenango. It's super fun to say, way-way te-nango! We loved how this year's crop hits on every level. It has a start, a middle, and a finish, none of which will let you down. You'll be delighted by the sweet notes of peaches and praline that define this cup. So, if you're looking for a coffee that sings on your tongue like it was Josh dang Groban, this is the coffee for you.
More about PERC Coffee
Hailing from Savannah, Georgia, PERC has been roasting coffee for over 10 years and we have one simple mission: provide great coffee for great people.
Read more...
No Customer Reviews
Be the first to write a review.