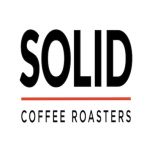 Shubuta is our signature blend of fresh seasonal coffees.
Processes
Natural; Fully Washed
Notes from the curator
This coffee can be used for espresso, drip, pour over, etc. We taste nutty, savory, chocolatey notes. Get course grind if you are using a traditional coffee maker and fine grind if you are using an espresso machine. This coffee is named after Shubuta Mississippi home of the famous red Artesian well.
More about Solid Coffee Roasters
Solid Coffee Roasters is a specialty coffee roaster located in the Southeast suburbs of Los Angeles, CA.
Read more... Great Light Roast
Comes out exceptionally well as an americano on my spinn.