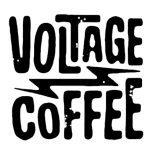 Milk & Honey, the quintessence of our offerings, is preferred on espresso but performs exceptionally in any brew method.
Country
Colombia; Ethiopia
Processes
Fully Washed; Natural
More about Voltage Coffee Project
We collaborate with farmers, roast coffee, and open unique concepts — all with the sole focus of creating community.
Read more...

Wow
What a great roast, aromas and flavor notes as in description. A+ Delicious!!
Hands down, one of the best coffee beans I have ever purchased!