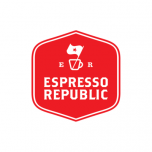 Cali Classic Espresso® is today's modern coffee bar standard. A slightly brighter twist on a traditional espresso.
Country
Ethiopia; Colombia
Notes from the curator
Our Cali Classic Espresso® scored 94 points by Coffee Review in 2017. This espresso features notes of milk chocolate, stone fruit, cherry-like acidity with a crisp finish.
More about Espresso Republic
We are a specialty coffee roaster committed to excellence in everything we do. Our coffee is directly sourced and roasted to order on our Loring Roaster to ensure freshness and to promote quality. Our mission statement: To have a passion for quality coffee. From farm to cup, we want to offer the best.
Read more...

This stuff is great.
One of the more interesting and balanced beans that I've had in a long time. The tasting notes are pretty dead on and I also really appreciate the design of the packaging - its one of the nicest I've seen throughout my Spinn experience.
Boom!
Get this espresso if you're more into light roasted, light-medium body coffees! I would say the Yirgacheffe beans shined more with the stonefruit, cherry, and brightness. On the other hand, great balance in the mouth in the end with milk chocolate and molasses sweetness delivered through the Columbian. Will definitely order more!