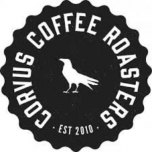 Region: Costa Rica/Guatemala/Ethiopia Darker Filter Blend/Medium Body Tasting Notes: baking spices and dark chocolate.
More about Corvus Coffee Roasters
We have built a network of farmers around the world who we can invest in with quality-focused programs. We view these relationships as the core of our success in achieving a sustainable future for securing exceptional micro-lots of coffee while improving the world through coffee.
Read more... So smooth
Having sampled an array of exquisite coffees from numerous roasters in the Spinn app, I must say that this particular blend truly stands out as a top-tier favorite. This velvety brew presents a delightful symphony of intriguing spices, which coalesce to create a truly captivating flavor profile. The intricacies of this masterpiece are best savored when the coffee is enjoyed at a drinking temperature of around 130°F (thank you Ember). not bad but not for us
Robust and flavorful but has a bitter aftertaste. Good for one cup but couldn't wait to get to the bottom of the bag.