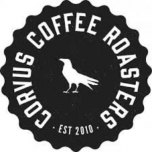 Region: Costa Rica/Guatemala/Ethiopia Darker Filter Blend/Medium Body Tasting Notes: baking spices and dark chocolate.
More about Corvus Coffee Roasters
We have built a network of farmers around the world who we can invest in with quality-focused programs. We view these relationships as the core of our success in achieving a sustainable future for securing exceptional micro-lots of coffee while improving the world through coffee.
Read more...
No Customer Reviews
Be the first to write a review.