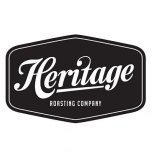 Those who like a bold, dark roast coffee this is the coffee for you.
Notes from the curator
Our blend for the fan of dark roasted coffee. With a little inspiration from Italian tradition we crafted this blend to be a crowd pleaser for the palate that demands bold coffee.
More about Heritage Roasting Company
Serving and roasting specialty coffee since 2013 in the heart of Shasta Lake City, California. Our heart is to use coffee as a vehicle for relationship. We believe in championing community, having seed to cup traceability, and being ethically sourced.
Read more... My Favorite
I tried a different brand/flavor and I hated it! When this coffee arrived, I emptied the other brand out my SPINN which was not an easy task.