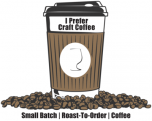 A juicy & fruity coffee experience with a slight barrel-aged character on the back-end. Ripe fruit, nuttiness, chocolate
Notes from the curator
Each batch of Anaerobic coffee will taste slightly different; however, our good friend Ryan provided some excellent flavor notes: "Has a much deeper fruit taste. Almost as if the fruit notes are of more ripened fruits that have a deeper and richer flavor. Then there is a nuttiness all the way through, as well as a mellow vanilla note that keeps it all together."
More about I Prefer Craft Coffee
FASTEST SHIPPER & ROASTER ON SPINN! One of New Jersey's only nano-roasters, as we keep our batch size to 4.5kg. I Prefer Craft Coffee offers a unique roast-to-order coffee experience! Our ethically sourced specialty coffee is roasted & shipped same-day with 100% Clean Air, and our process guarantees you always receive your coffee at peak freshness!
Read more... The best beans!
Obsessed! This coffee has be out of bed, taking pictures & videos of my coffee, and writing a review at 7am! I found "I prefer craft coffee" after purchasing a Spinn coffee machine. You seriously cannot beat these beans! We purchased 4 bags of decaf so we can enjoy this coffee at any time of the day :) Not to mention, Andrew has been so incredibly helpful! He has answered all of my questions (and quick!), directed me to the right beans for me, as well as walked me through troubleshooting our new Spinn machine- the customer service here is out-of-this-world-amazing!! Thank you SO much!!