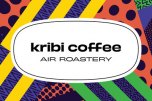 Grown on farms in our very own Kribi Farm Collaborative in Cameroon. Smooth with caramel, red cherry and floral notes.
Altitude,
feet
4000 - 4500
More about Kribi Coffee Air Roastery
At Kribi Coffee Air Roastery, our mission is to raise the standard of sustainable coffee roasting - one batch at a time. Every bag of our coffee is roasted on demand, with our patented air roasting technology, to bring you the freshest, cleanest coffee possible.
Read more...
No Customer Reviews
Be the first to write a review.