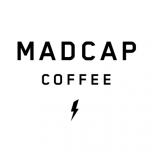 Altitude,
meters
1500 - 1600; 1850 - 2200
Variety
Yellow Catuai, Ethiopia
Notes from the curator
The Ancient Greek mathematician Archimedes is said to have exclaimed "Eureka!" upon discovering his famous principle. Since then the phrase has gone hand in hand with bolts of inspiration. While we can't promise our house-espresso blend will change the future of mathematics, we can promise a lightning strike of great flavor, the kickstart of caffeine, and an even-keeled flavor that delivers beyond expectations.
More about Madcap Coffee Company
Founded in 2008, Madcap Coffee Company is a coffee roaster/retailer headquartered in Grand Rapids, MI, with several cafes in Michigan. We aim to elevate the ordinary coffee experience by providing excellent coffee and exceptional cafe hospitality.
Read more...
No Customer Reviews
Be the first to write a review.