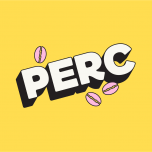 The PERC UP is truly a universal cup of coffee made for the every day drinker.
Altitude,
meters
1500 - 1700
Notes from the curator
For PERC UP, we source a perfectly balanced coffee that's super versatile and has mass appeal. PERC UP is the people's champ and has a bodyslam of flavor. If you don't love this coffee, you may want to check your pulse. Heck, even folks who don't have a pulse will love it - shout out zombies, where you at? It performs wonderfully in any brew method, so throw on your boots and singlet - cause we're gonna hit you with an atomic elbow!
More about PERC Coffee
Hailing from Savannah, Georgia, PERC has been roasting coffee for over 10 years and we have one simple mission: provide great coffee for great people.
Read more...
No Customer Reviews
Be the first to write a review.