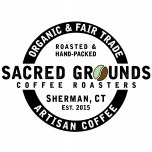 Our Latin-American blend of water processed, decaffeinated coffee.
Processes
Decaffeinated: Swiss Water Process
Notes from the curator
Cupping notes: Smooth but bold with notes of rich chocolate and a faint hint of orange.
More about Sacred Grounds Coffee Roasters
Sacred Grounds Coffee Roasters is a USDA Certified Organic and Fair Trade Certified small-batch roastery located in the beautiful little town of Sherman, Connecticut.
Read more...
No Customer Reviews
Be the first to write a review.