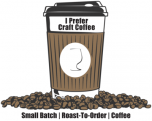 A dark roast experience like no other. Smooth, flavorful, and bold! It's the perfect coffee for lovers of dark roasts.
Country
Guatemala; Ethiopia
Region
Acetenango; Yirgacheffe
Notes from the curator
Dark chocolate covered berries with a smokey and bold finish.
More about I Prefer Craft Coffee
We are the FASTEST on SPINN to ROAST/SHIP orders out! Order By 12PM EST We offer a unique roast-to-order coffee experience! We offer specialty & ethically sourced coffee, and your coffee is roasted same-day with 100% Clean Air. We NEVER Roast your coffee before you place your order, & our process guarantees you always receive your coffee at peak freshness!
Read more...
No Customer Reviews
Be the first to write a review.