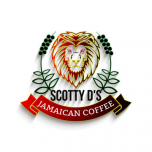 An excellent full body, refined mild taste with a slightly sweet berry finish. The coffee is very rich, almost creamy.
Notes from the curator
Wallenford Peaberry Reserve The Wallenford Farm is one of the older farms in Jamaica. Jamaican Blue Mountain Coffee has been cultivated there for over 250 years. Wallenford Estate coffees are notable for a well-balanced cup.
More about Scotty D's Jamaican Coffee
We are a specialty coffee roaster in Orange County, California that focuses on coffee grown in Jamaica. We roast 100% Blue Mountain Coffee and various other varietals that we blend with Blue Mountain Coffee.
Read more...

Perfect pea berry coffee with the Spinn in control!
Terrific coffee just meant for the Spinn! Well worth the price. Something Wron
One of the worst cups of coffee we've ever had. Had to be a mistake. Tasted more like the sweepings from the floor.