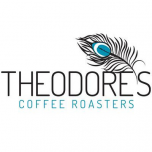 nougaty body, flavors of mixed berry, and nice floral in its long finish.Panela, orange, dark chocolate
Notes from the curator
El Encanto, Mozonate, Nicaragua Mozonate, a municipality in Nueva Segovia, Nicaragua, looks and feels different than most of Central America. Bordering Honduras to the north, these highlands are relatively cool, richly lined with conifers, reminding one of the Pacific Northwest.
More about Theodore's Coffee
Theodore's is sourced through direct trade, a result of Theodore's founder Darwin Pavon's relationship with farmers throughout Central America and, more recently, Africa. Through direct trade, Theodore's ensures that their farmers are paid a fair amount for their coffee and support Micah Project.
Read more...

Great Aromas
Good aromas, great taste. Fresher than my other order of the Bourbon Devilicious from the same roaster.