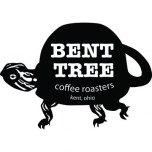 Aromas of baked bread, hints of molasses, toasted oat, and a full body.
Altitude,
meters
1650 - 1800
Variety
Caturra, Typica, Catimor, Mondo Novo, Pache
Notes from the curator
As the seasons change, the weather gets a bit colder, and the leaves start to turn color. At the same time, we're all looking for something warm and comforting to help us through the transition! Our Autumn Blend may be just what you're looking for. Just like the leaves changing color, this black-and-tan showcases our Peru Norte FTO as a blend of medium and darker roasted beans; the same bean roasted two different ways.
More about Bent Tree Coffee Roasters, LLC
Bent Tree Coffee Roasters was born from a love of coffee in the summer of 2011. We are a small batch, artisan coffee roaster located in historic downtown Kent, Ohio. We seek out and start with high quality Arabican green coffee beans and carefully roast them to perfection.
Read more...
No Customer Reviews
Be the first to write a review.