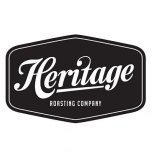 It is the daily driver that goes well with anything. Smooth and well-rounded out, you want to keep coming back for more.
Notes from the curator
A classic blend that began back in the 1600's with Dutch merchants. This blend is traditionally known as the Moka Java blend referring to shipping ports in Yemen and Indonesia where coffee was exported. We keep the tradition alive with our Highway 151 blend which is our most popular blend for your daily cup of coffee. Seriously, it never gets old!
More about Heritage Roasting Company
Serving and roasting specialty coffee since 2013 in the heart of Shasta Lake City, California. Our heart is to use coffee as a vehicle for relationship. We believe in championing community, having seed to cup traceability, and being ethically sourced.
Read more...
No Customer Reviews
Be the first to write a review.