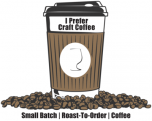 Hi Bourbon Lovers! Our premium single origin coffees aged in American Oak barrels on various types of Bourbon Whiskey.
Altitude,
meters
1700 - 1700
Notes from the curator
Our Bourbon Barrel-aged coffee is aged on real oak soaked premium bourbon and made in extremely small batches. Expect heavy notes of bourbon, oak, and spice Duration Aged/Bourbon Type: 5+ Weeks | Widow Jane Bourbon (2015) Barrel: Medium+ Char | American Oak Double Barrel
More about I Prefer Craft Coffee
We are the FASTEST on SPINN to ROAST/SHIP orders out! Order By 12PM EST We offer a unique roast-to-order coffee experience! We offer specialty & ethically sourced coffee, and your coffee is roasted same-day with 100% Clean Air. We NEVER Roast your coffee before you place your order, & our process guarantees you always receive your coffee at peak freshness!
Read more...
No Customer Reviews
Be the first to write a review.