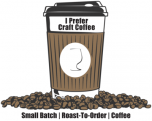 A clean coffee that tastes exactly like "coffee" | Pale chocolate, nuttiness, very clean, good body.
Altitude,
meters
1400 - 1550
Notes from the curator
This is the perfect coffee for those who don't enjoy unique flavors or aromas in their morning cup of joe! It's a very high quality Brazilian natural coffee that exhibits traits of the ideal cup of coffee that most American's enjoy.
More about I Prefer Craft Coffee
FASTEST SHIPPER & ROASTER ON SPINN! One of New Jersey's only nano-roasters, as we keep our batch size to 4.5kg. I Prefer Craft Coffee offers a unique roast-to-order coffee experience! Our ethically sourced specialty coffee is roasted & shipped same-day with 100% Clean Air, and our process guarantees you always receive your coffee at peak freshness!
Read more...
No Customer Reviews
Be the first to write a review.