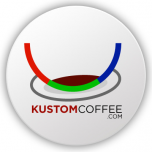 Dark chocolate with wisps of almond and raisins invites your senses to indulge in the heavy body of this coffee.
Altitude,
meters
1300 - 1600
Notes from the curator
Nuevo Oriente isn't usually a region common in travel itineraries in Guatemala. However, the coffee trade is leading to new roads opening it up to exploration. Coffee grows slowly here, with the plants struggling to extend their roots through the mineral-rich yet dense soil. That produces fewer cherries that burst with unique flavors that bear the mark of the metamorphic rock underneath.
More about Kustomcoffee
Kustomcoffee is a very small award-winning artisan micro-roastery based in Fairfax, Virginia. We roast very small batches of ethically sourced premium specialty coffee beans. Each batch is handcrafted and unique, without reliance on computerized roast profiling.
Read more...
No Customer Reviews
Be the first to write a review.