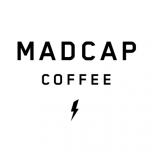 Altitude,
meters
1700 - 1950
Variety
Bourbon, Caturra, Colombian, Castillo
Notes from the curator
Not too little, not too much: Fraction is Madcap's half-caffeinated signature blend, crafted with all of the flavor but just half the caffeine. Sometimes you just need a little bump to get you through the rest of your day, but we don't think there's any need to sacrifice flavor along the way. That's why we created Fraction. We like to think about our half caff blend as the ideal mid afternoon break coffee or as the perfect, post- dinner desert counterpart, the preamble to decaf.
More about Madcap Coffee Company
Founded in 2008, Madcap Coffee Company is a coffee roaster/retailer headquartered in Grand Rapids, MI, with several cafes in Michigan. We aim to elevate the ordinary coffee experience by providing excellent coffee and exceptional cafe hospitality.
Read more...
No Customer Reviews
Be the first to write a review.