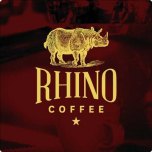 Crash is a dark, heavy-bodied blend perfect for those early mornings that you just need a little extra OOMPH.
Country
Brazil; Indonesia; Papua New Guinea
Region
Sul De Minas; Java; South Foreh
Notes from the curator
With notes of smoky molasses and praline, it makes a killer french press! Try it black or try it with a dash of oatmilk- no matter how you decide to prepare or serve it, you will love Crash!
More about Rhino Coffee
Rhino Coffee prides itself on ethical sourcing, quality roasting, and diligent training. We source our green coffee from all across the world through a relationship with an independent fine specialty importer. What is our process like? We look for farms with high quality coffee beans and safe working conditions for their workers. We are Fairtrade certified!
Read more...
Interesting change of pace
I recently took the quiz and this was suggested. I bought it and have enjoyed a number of cups. [My preference is very dark roast, as oily as possible.] In comparision with other beans from the marketplace, this didn't have much of an aroma when I opened the bag*. The beans weren't as dark as I expected, and they were dry rather than oily. Once I ground a portion, though, the aroma really came alive! I liked the scent of the fresh-ground beans. The coffee that I brewed with my Gaggia Baby produced a nice crema and an excellent tasting coffee. Highly recommended. * The bag the coffee came in was a sealable container. Unfortunately the vendor folded the top over and sealed the bag with packaging tape. This made it very difficult to open the bag and maintain the integrity of the zip-lock seal. Rhino Coffee: Please consider not using packaging tape.