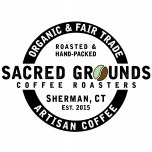 A clean, washed coffee from the Huehuetenango region of Guatemala. It's a perfect, anytime coffee-lover's coffee.
Variety
Guatemalan Huehuetenango
Notes from the curator
Cupping notes: smooth, medium body, nutty toasty sweet finish.
More about Sacred Grounds Coffee Roasters
Sacred Grounds Coffee Roasters is a USDA Certified Organic and Fair Trade Certified small-batch roastery located in the beautiful little town of Sherman, Connecticut.
Read more... Good for both coffee and cortados
As a non-aficionado, this quick review is probably best suited for fellow normies. I enjoy both coffee and espresso-based drinks (lungos and cortados are what I usually opt for). I had a hard time finding beans that I liked for both, and since I pour the whole bag into the hopper, and can't switch on a whim from my favorite coffee beans to my favorite espresso beans, this was an issue. And when guests visit, they often just want a nice cup of coffee instead of espresso. I can't tell you all about the notes, etc. I'm not a connoisseur at that level. All I can tell you is that for coffee it's flavorful (not weak) without being bitter. Guests always say, oh, good coffee. And it's also good for the espresso drinks I like. I'm very happy with it. Fwiw, I've tried maybe a dozen roasters here? I've also liked Dog Days, tapdancers, and Likuid's Spinn blend (can taste the honey in that one). If you don't like those, then my judgment's probably not for you. If you liked them, give this one a try.