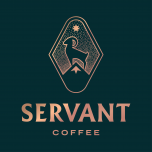 Smooth medium roast blend with fruit notes of peach and clementine perfect for espresso.
Altitude,
meters
1650 - 1750; 1600 - 2300
Country
Colombia; Ethiopia
Region
Northern Nariño; Gedeo Zone
Processes
Fully Washed; Natural
Notes from the curator
For our very first blend at Servant, we always wanted to create a profile that is incredibly approachable and gives everyone that wonderfully positive feel in the morning. We take a washed coffee from Colombia and blend it with our naturally processed Ethiopian to create that perfect sweet nectar. This coffee works amazing as a lighter espresso but also has nice characteristics on drip.
More about Servant Coffee
We exist to serve others. Servant Coffee is equally passionate about our coffee and who it serves. We believe in investing in relationships with our producers, employees, and clients alike. We believe coffee can be a force for good and we want to lead the way in making a difference.
Read more...

Amazing
Notes of stone fruit and chocolate. It is the perfect cup for your daily morning coffee. I have been drinking it exclusively for about 6 months (maybe more). I haven't found a coffee more well-rounded. When I travel, I crave this coffee and can't wait to get home. You should buy a few bags!
Five cups - One Star
I have no clue what the previous review said but I was hit with bitter that out-did Starbucks bitterness 10 to one! I took the rest of the beans and threw them in the trash. Absolutely undrinkable!
If You light an Underlying Acidity throughout this is for you
Tasted like clementine throughout the journey in my mouth. From the beginning all the way to a length finish (somewhat of an acidic aftertaste). Not for everyone. It also has a tangerine sweetness that tries to balance out the acidity journey. Honey finish at the end. Not for me but I can see how someone will like this. Definitely a great palate cleansers or a 2pm espresso to keep you going through the day.