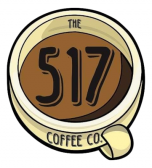 Sweet, velvety and mellow. An easy all day drinking coffee.
Region
Colonia Siete Estrellas, Caranavi
More about The 517 Coffee Company
The 517 Coffee Company strives to exist at the intersection of coffee growers and coffee drinkers - to best represent the hard work and care that goes into producing specialty grade crops while bringing you the best possible cup.
Read more... amazing coffee
Wasn't expecting it to taste so good, but it's amazing!

Smooth Operator
Very surprising
by Stevan Michael Robinson