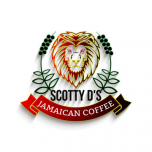 100% of the finest hand-picked Blue Mountain Coffee from Jamaica. Scotty D's Jamaican Blue Mountain is a coffee with a balanced medley of coffee flavors depicting a richness and sweetness that is hardly describable. A rich aroma with perfect acidity
Notes from the curator
These beans were grown in the parish of St. Andrew in the world famous Jamaica Blue Mountains. What makes the Jamaica Blue Mountains such an ideal location for coffee production is their rich volcanic soil, cool climate and high rainfall, which all combine to produce a perfect environment for the arabica typica bean to flourish.
More about Scotty D's Jamaican Coffee
We are a specialty coffee roaster in Orange County, California that focuses on coffee grown in Jamaica. We roast 100% Blue Mountain Coffee and various other varietals that we blend with Blue Mountain Coffee.
Read more... great coffee
Great coffee, super smooth with deep flavor. Is it worth the price? Not sure. I've bought other brands on the marketplace for $20 for a larger size and would say they're comparable with this one being a tad better. Definitely a splurge but if you're willing to spend I'd certainly give it a try. amazingly smooth
Smoothest coffee yet, well balanced and tasty. Best coffee tried on the market yet
Delicious
This coffee is super delicious! One of my fav coffees so far! Will DEFINITELY reorder.

Jamaican Ya!
An extremely smooth tasting with coffee, expensive but a nice treat. I have always enjoyed these beans. Jamaican me really happy!
I've now ordered this a couple of times and have it in my regular rotation. It's pricey, of course, but it's worth it as a treat. It's well-balanced, and definitely leans more toward the caramel and nuts side of the house, rather than fruity. When I brew this one, I kick back, relax, and savor the flavor. This is not a coffee to be rushed. You should shift your mind to Island Time!