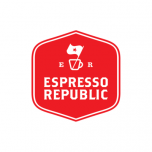 This espresso was made for milk. It's heavy body and strong chocolate flavors compliment the sweetness of milk.
Altitude,
meters
1800 - 2100
Notes from the curator
Our Dark Star Espresso scored 93 points by Coffee Review in 2017. This espresso is for the traditional espresso lover. It features notes of nutmeg, dark chocolate, and vanilla. This espresso boasts a heavy body, creamy mouthfeel, and a heavenly rich finish.
More about Espresso Republic
We are a specialty coffee roaster committed to excellence in everything we do. Our coffee is directly sourced and roasted to order on our Loring Roaster to ensure freshness and to promote quality. Our mission statement: To have a passion for quality coffee. From farm to cup, we want to offer the best.
Read more...
No Customer Reviews
Be the first to write a review.