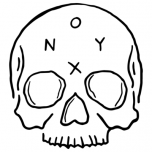 This unfriendly Holiday coffee performs diabolically well; a deeply developed and dark-roasted Kenyan coffee offering.
Notes from the curator
BEWARE: This unfriendly Holiday coffee will destroy you. Long gone are the days of sitting around the hearth, singing songs of joy with gifts under the tree. Instead, all that lies under that sad, decrepit tree is this dark-roasted Kenyan coffee. Deeply developed and smelling of sweet tobacco, this AA lot still boasts of caramelized sugars, fired-roasted citrus and a rich, thick body. Performs diabolically well as a filter or espresso.
More about Onyx Coffee Lab
Started in 2012 by Jon and Andrea Allen, Onyx Coffee Lab strives to find the best possible coffees and roast them to their full potential. In 2022 we won the US Roasters Competition and the US Brewer's Cup Competition, going on to place 2nd in both categories in the World Coffee Championships.
Read more...
No Customer Reviews
Be the first to write a review.