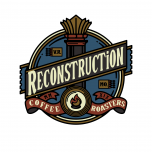 Our Guatemala is the most popular single origin coffee in our current lineup, boasting of Cocoa, Graham and Boysenberry
Altitude,
meters
1600 - 2200
Variety
Bourbon, Caturra, Pache, Catimor, Maragogipe
More about Reconstruction Coffee Roasters
We are a women-owned and managed, small batch coffee roastery. Our coffee is meant to encourage you to to "Stop & Re____" (you fill in the blank…relax, recharge, rewind, perhaps).
Read more...
No Customer Reviews
Be the first to write a review.