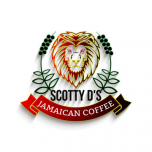 The "Golden Lion" blend is our signature blend, comprised of a Jamaica Blue Mountain, Ethiopia, and Guatemala.
Variety
Blue Mountain, Pache Comum
Notes from the curator
This blend is unique because of the sweet caramel taste notes and chocolatey aroma. An excellent mild acidic coffee with hints of lemon, berries, and a distinct nuttiness make this coffee excellent hot or cold. This is the coffee blend used during our 2nd place finish in the "America's Best Cold Brew" competition.
More about Scotty D's Jamaican Coffee
We are a specialty coffee roaster in Orange County, California that focuses on coffee grown in Jamaica. We roast 100% Blue Mountain Coffee and various other varietals that we blend with Blue Mountain Coffee.
Read more... loving it
Ordered a few times and it doesn't disappoint. The roast is just right- not too light for a medium, chocolate and smooth for morning brewing. Not sure where the complaints of harshness are coming from but I like it! Only complaint is how expensive it is, sold in 8 oz bags and shipping is double even if you order 2 at that weight- big mistake if you want to order in bulk to spend $35 a pound it's not an everyday option!

Not for me
I am a big fan of the espresso lion blend. This was not bold/robust enough for me. quality is fine-a bit bitter at the end for me.
A slight bitter taste-like a hint of lemon zest is what I tasted with the mug brew setting. I prefer a more basic brew for myself. I would like to try a different blend-because other than the zest it might be a decent coffee for me. I see they have several varieties.

Not for Me
Very acidic and bitter. Decent
A touch bit dark but still has nice notes. Not a daily driver but nice to have on occasion flavor profile
underwhelming