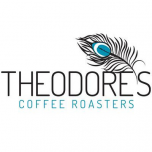 Tasting notes of tropical fruit, caramel, vanilla, peach and black tea make this an awesome coffee.
Notes from the curator
What a fruit bomb! This coffee is loaded with sweet caramel, milk chocolate and tropical fruits. Notes of peach and black tea with a velvety body and very delicate acidity. Overall a very inviting cup of coffee. This particular coffee is from the Parainema cultivar, developed to resist coffee rust (Roya) and other plant diseases. The beans are larger, similar to Pacamaras. Parainema coffees won the 2017 Cup of Excellence contest in both Honduras and Nicaragua!​
More about Theodore's Coffee
Theodore's is sourced through direct trade, a result of Theodore's founder Darwin Pavon's relationship with farmers throughout Central America and, more recently, Africa. Through direct trade, Theodore's ensures that their farmers are paid a fair amount for their coffee and support Micah Project.
Read more... Heavy on the acid
Not bad, but certainly not my favorite. Way too acidic for me and don't notice most of the notes in the description. Would not recommend.